About Painter Creek Lodge
About Us
Painter Creek Lodge is owned and operated by jon and patty kent, and caters to small groups of fly fisherman.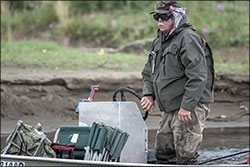 Jon Kent
Jon has been guiding and exploring the waters of the Alaska Peninsula since 1984, and has intimate knowledge of the rivers, fish, and techniques required to share the experience this amazing fishery has to offer. In addition to guiding, he is the host, chief pilot, plumber, electrician, maintenance man, and trouble- shooter for whatever comes up.
Patty Kent
Patty Kent has been serving up culinary delights at Painter Creek since 1994, and is justifiably well known for her skill at providing our guests with outstanding meals and service. Prior to coming to Painter Creek, her career included various high end cooking and catering stints, including one as the pastry/sous chef at The Colorado Governor's Mansion.
Together, Along with the Painter Creek Crew, we offer our guests an unforgettable experience.